Fresno State basketball players Haley and Hanna Cavinder have game and nearly 4 million followers on social media. As they told Boardroom, their opportunities in the NIL space have only begun.
Haley and Hanna Cavinder were not looking to build a social presence that they could leverage to earn hundreds of thousands of dollars.
It happened naturally.
The twin sisters were star freshman guards for the Fresno State Bulldogs — a team that was competing at the top of the Mountain West but well off the national radar. In March 2020, they lost a heartbreaker in the conference title game, likely relegating them to the WNIT, until the COVID-19 pandemic washed away the postseason and sent them both home from Fresno to Gilbert, Arizona early.
Looking to kill time in the early months of the pandemic, Hanna, who was already active on TikTok, persuaded Haley to join her on a joint account. The pair began recording videos together, jumping on trends and increasingly finding ways to incorporate their personalities and basketball skills.
As their account gained traction, college basketball restarted and their careers continued to flourish. As sophomores they were the Bulldogs' two leading scorers, accounting for 47% of Fresno State's total scoring. Haley was named Mountain West Player of the Year, while Hanna returned to the all-conference team.
On social media, the twins now have 3.8 million TikTok followers and have expanded to Instagram (22,005 joint account followers, 332K for Hanna, 336K for Haley) and YouTube (69,900 subscribers).
Until July 1 of this year, that social following was worth little more than online clout — but that all changed when the NCAA officially began to allow student-athletes to profit off their name, image, and likeness. The Cavinders' following was already in the millions, and with that kind of influence, the money was sure to start pouring in.
It happened immediately.
On July 1, a billboard in Times Square announced the twins' first partnership with Boost Mobile.
After Boost Mobile came fantasy sports app Sleeper and their own collection of apparel with PSD. Most recently, it's a partnership with Champs Sports and Eastbay to appear as featured athletes in their 2021 holiday campaign.
That project in particular is one that hits home for the Cavinders. They remember going through the Eastbay catalogs as kids and building their Christmas lists off of them. With Champs in tow, it allows the twins to showcase everything they want out of an NIL deal.
"Me and Hanna try to stay with brands that align with our personalities and what we share on social media," Haley told Boardroom. "With Champs and Eastbay, they go with our sporty side and our girlie side."
Sign up for our newsletter
Hanna & Haley: NIL Trailblazers
With the NIL era only months old, there's no guidebook yet on how to navigate a college season while surrounded by business opportunities. The Cavinders, however, are forging a path for future athletes — regardless of gender and regardless of sport — to take while trying to compete at a high level with business opportunities abound.
Few college athletes have had as many NIL deals to their names as the Cavinders, and they handle all of it while continuing to lead their team in scoring as of this writing. Haley is averaging 17 points per game, and Hanna is at 14.3 — more than double the average of Bulldogs' third-leading scorer. Haley even opened this season with a triple-double against Utah Valley.
They credit their representatives at Everett Sports Marketing for helping filter the bevy of requests that come their way.
"They know the brands we work with and what we would be interested in," Hanna said.
When the twins are presented with an opportunity, they talk it through the same way they do everything else: together.
They have guidelines they set for themselves, as well. They won't let NIL opportunities — interviews, shoots, etc. — interfere with their responsibilities as students or basketball players.
"NIL is something that you do on your own," Haley said. "Our coaches have always been supportive and provided us the right tools. They're just supportive and they try to stay out of it, but they let us know that basketball comes first, no matter what."
What's Next for the Cavinder Brand
The Cavinders take NIL seriously, but not everything they do is about maximizing their brand at all costs. As Haley said, they want to be seen as normal 20-year-old women.
As players at a mid-major school with endorsements pouring in anyway, it stands to reason that they could make even more money and an even bigger name for themselves by transferring up to a higher-profile program; that's not something that's remotely on their minds right now.
"We just have a great relationship with our coaches," Hanna said. "The Red Wave [Fresno State's fanbase] has always been so supportive of Haley and me. We love playing for Fresno and going to school here."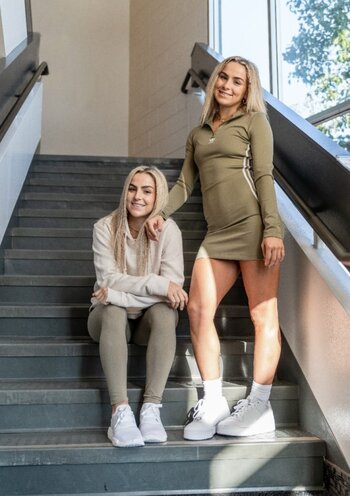 As juniors, the Cavinders will be in college at least through next year. After that, conventional wisdom may be that they'll try to catch on professionally. At 5-foot-6, they may not be shoo-in WNBA Draft candidates on paper, but with the numbers they put up, there's no doubt they could get a look. At worst, they could make a fine living overseas.
If they insist on sticking with basketball, that is.
They are both business majors and have discussed starting a company together. The more granular details there remain to be seen, but they've talked about getting into the hospitality industry or doing something in fashion — whenever their basketball careers are over, which is not something they're thinking about anytime soon.
"We try not to think so far in advance because we don't know what will happen," Haley said.
In the meantime, she added: "We are going to try to make as many relationships as we can with these brands."
So whether it's with big-name partnerships like Boost Mobile and Eastbay, one-off social media posts, or branded merch, the twins will continue to listen, learn, and take advantage of an opportunity they would have never imagined being possible two years ago. And for now, you're not going to find an ad that includes one sister without the other.
As they put it: "We're better together."
They said that in perfect unison, of course.
Sign up for our newsletter