WME Sports and agent Cecil White will work with Dick on name, image, and likeness representation while he is at Kansas.
In the era of NIL, sneaker deals, and mammoth athletics budgets, there are no sure things in college basketball recruiting.
Gradey Dick heading to Kansas is about as close as it comes.
The Wichita native grew up just a two-and-a-half hour drive from Lawrence and has three siblings that have already attended KU, which he called his dream school. Most importantly, he's good enough to not just play with the defending national champions, but to lead them as they look to repeat in 2022-23.
And, like any elite talent in this age of college sports, Dick is going to have his share of money-making opportunities. With that in mind, the rising freshman announced on Wednesday that he has signed with WME Sports for NIL representation.
"I just want to connect with some of the biggest and brightest companies and brands out there," Dick told Boardroom. "And I really feel like WME is the best at helping me achieve those goals."
Dick is going to make money and make headlines next season on one of the most famous courts in all of basketball, in front of one of the most rabid fanbases. Yet when he told Boardroom about his decision last week, it seemed like he could not have been further from the hallowed halls of Phog Allen Fieldhouse.
Sign up for our newsletter
The empty gym at the Boys & Girls Club of South Central Kansas, the site of his announcement, is about as bare-bones as it gets — five rows of blue bleachers stacked against the wall and no flashy design or colors on the hardwood, just the lines for the main court and markings denoting the free throw lanes for each of the four side baskets. But Dick has no shortage of memories between those lines.
Dick's favorite came when he, the No. 14-ranked player in his class, per ESPN, was a middle schooler, playing on that court in an eighth-grade all-star game. The bleachers were packed, the fans were loud, and Dick crossed up his opponent while making him fall in the process.
No, Boardroom could not find video, but that moment and others meant enough to Dick that when he was named Gatorade State Player of the Year — an honor that comes with an opportunity to donate to a cause important to the player — he chose the local Boys & Girls Club, the same place he chose to begin the next chapter in his career.
The Fast Track
Dick describes himself as a versatile guard with a high basketball IQ and the ability to score in different ways. Scouting reports say the same — ESPN's mock 2023 NBA Draft touts Dick's three-point shooting stroke and jump shot, which is deadly in transition, off screens, or on step-backs. It all adds up to someone whose college career is not destined to last the full four years.
We don't know how long Dick will actually play for Kansas. The Jayhawks haven't had a one-and-done player since 2017, but the local product is certainly a candidate to be the next. Early 2023 draft boards have him going somewhere in the back end of the first round, but with over a year away from draft day, that can change in either direction.
How well Dick sets himself up to capitalize on his NIL rights could also be a factor. This year alone, we've seen several players — including national player of the year Oscar Tshiebwe — choose to stay in school, where they could reasonably earn more money through NIL than by taking a chance at landing a professional contract.
When decision time comes a year from now, Dick will need to lean on people he trusts to advise him in the process. Bill Self and the Kansas coaching staff will surely play a role, as will his family, but his team at WME will also be there for support, as they have already.
Partnerships & Preparation
WME made it clear to Dick, even from preliminary Zoom calls between the two sides, that the agency was okay with basketball being his top priority.
"Every single person on that call with WME made it known that basketball does come first," he said. "And none of these brands, none of these companies would come to me if it weren't for what I'm doing on the court and the hard work that I'm doing without all the cameras on."
That's not to say Dick is handing the keys to agent Cecil White and letting him run wild. It's a partnership — one that Dick hopes can lead to lasting relationships with brands that stretch beyond his college days.
"I think a successful partnership is where you can bounce ideas off each other and kind of be in this partnership where you don't feel like they're just running the whole thing, where you don't really know too much," he said. "And that's why I love WME. I get those chances to put in my input."
On the other side, Dick's new coaching staff has had to adjust rapidly to the changing times. A year into the NIL era and suddenly the job description has changed drastically for Self. Part of it is in understanding that his players now have to balance academics, athletics, and business.
While NIL didn't factor much into Dick's college decision — he was going to make money anywhere he went and, let's be honest, he's the best player in the Sunflower State, where do you think he's going? — he says it did help that Self and assistant Norm Roberts both made it clear that they want Dick to be able to make the most out of his college experience.
"Basketball's No. 1, always," Dick said. "That's why I'm going to KU, but [the coaches] know those opportunities that are gonna come with it, and I think they're doing one of the best jobs in the country at taking advantage of those possibilities."
There are going to be plenty; Kansas has been among a handful of schools at the forefront of NIL innovation through both its Jayhawks Ascend program and its Rock Chalk NFT platform.
Jayhawks Ascend is Kansas's in-house NIL program that offers help with brand management, compliance, and post-grad preparation. The NFT platform is exactly what the name indicates — limited-edition NFTs, built on Dapper's Flow blockchain, of Kansas's players and coaches.
Then there are the opportunities that Dick and WME can find themselves. Those are the ones that will mean the most.
Family to Fight For
Dick isn't the first college athlete to ever say that he wants to partner with brands that hold personal significance. But perhaps especially for Dick, this is far more than lip service. Like he did by donating to the Boys & Girls Club, Dick told WME that he wants to use NIL to give back to his community.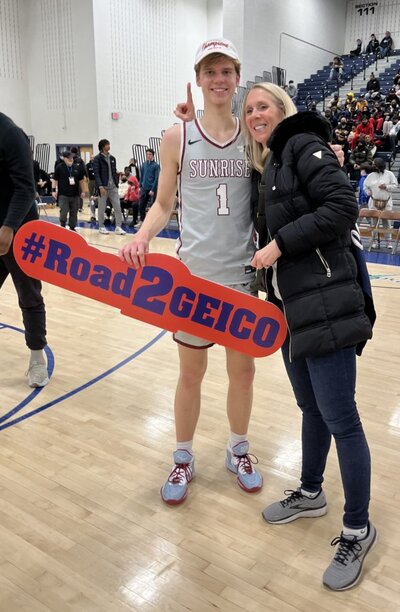 When Dick was young, his mother, Carmen, was diagnosed with colon cancer. As he watched her go through the highs and lows of treatment, he had to grow up faster than many, helping his father and siblings pick up the slack as her strength diminished. Today, he knows there are other kids out there who are in the same position he was in — forced to watch a loved one battle and take on additional responsibilities in the process.
It's why he wants to find opportunities to invest in childhood education, to make their lives easier, and to fund cancer research that can one day hopefully prevent other families from going through what his went through.
"Going through those times where I felt a little alone, with my parents being so busy, and I'm just realizing with my siblings, friends around the school, and my community stepping up big time and bringing meals to my family when my mom couldn't really cook as much, you're never alone," Dick said. "There's always someone there. And I feel like if I can kinda help with those possibilities in my community, with the platform that I have, and being there for others when they really need [it]."
It's a mature point of view from someone who is going to graduate high school this Friday, and it's one that seems to fit him well. While most of his classmates are enjoying their final summers at home, he will head to Lawrence in June for summer workouts and to get a jump start on classes. After that, the real work begins as Kansas looks to again be a factor on the national stage, and no one understands that better than their new hometown talent.
Sign up for our newsletter