Now that the Greek Freak is an NBA champ and Finals MVP, let's take the temperature of his status inside the hobby.
Giannis Antetokounmpo was already a two-time NBA MVP. A Defensive Player of the Year. A five-time All-Star and five-time All-NBA. But despite being just 26 years of age — Michael Jordan won his first NBA title at age 28 — the Greek Freak began to get a bad rap over the last couple of years due to his Milwaukee Bucks' inability to get over the hump and win the big one.
Well, this week, they did. The Deer dispatched the Phoenix Suns in six games, bringing the title home to Milwaukee precisely 50 years after Kareem Abdul-Jabbar carried them to glory for the first and only time. Naturally, Giannis was named NBA Finals MVP.
There's no bigger name in the game right now, period. And with that in mind, it's time to check in on the buzzing market for the newly-minted champ's trading cards. Let's look at the big picture, as recorded by Card Ladder:
What you're seeing is the total daily value of Giannis card auctions over the last 90 days, inclusive of his entire market. That gigantic spike on May 23 is obviously an outlier, and marks the Bucks' 2021 postseason debut against the Miami Heat. Since then, the numbers were remarkably stable.
Then, on July 20, the night the Bucks won their chip, Antetokounmpo's card market more than tripled, leaping up from $48,360 in sales July 19 to $148,560, an increase of 207.12%
The very next day, as Milwaukee sports fans basked in the glow of a historic victory, the Giannis market matured again, grossing a total $163,930 across 200 sales. Compared to July 10, the low point of the past month ($2,034), you're looking at an incredible 7958.5% increase.
But let's take a closer look. What stories are individual cards telling at the moment? We'll use a popular Giannis rookie card, his 2013 Panini Prizm Base, as an example.
Here's what Card Ladder notes for PSA 10 gem mint editions of the card:
Sign up for our newsletter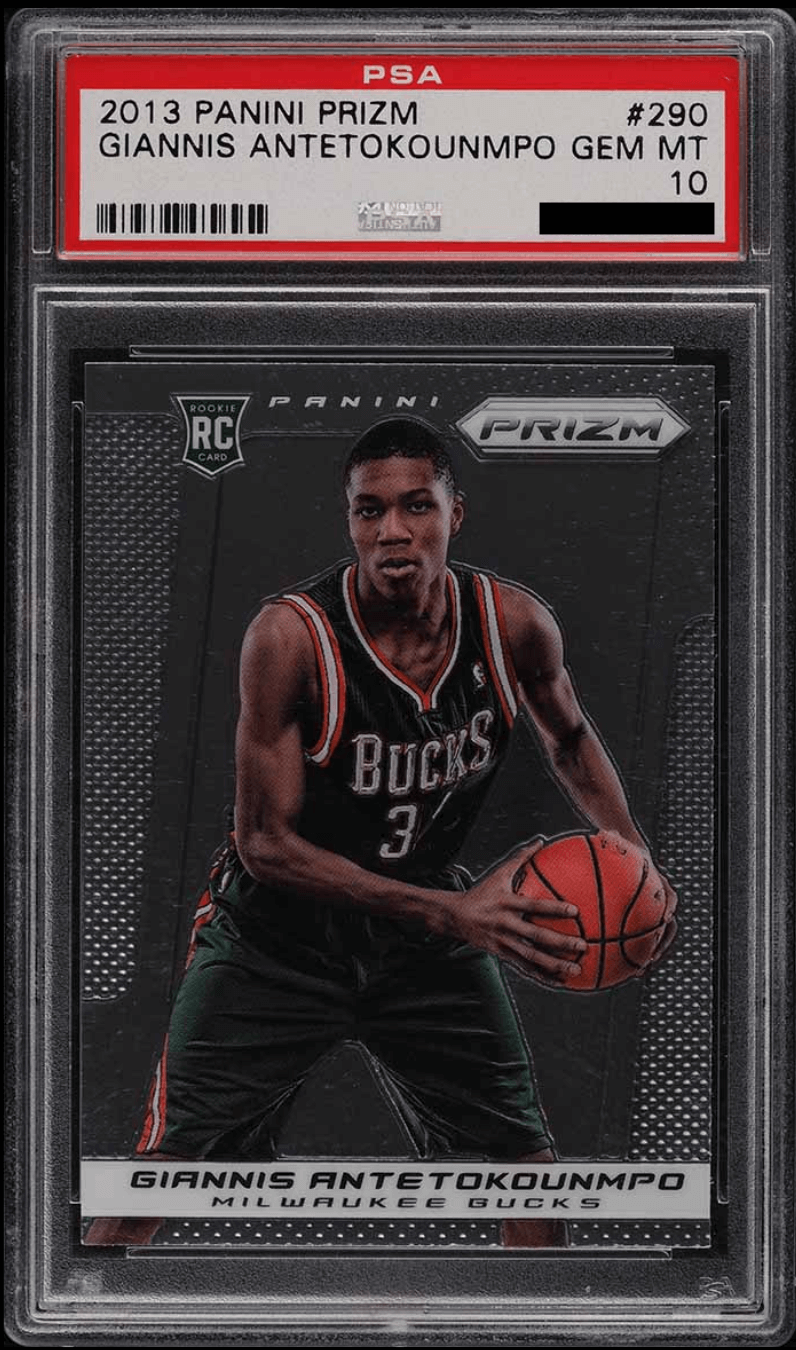 PAST 90 DAYS
Average sale price: $2,101.56
High sale price: $2,686.43 (July 21)
Low sale price: $1,293.80 (June 17)
PAST 30 DAYS
Average sale price: $1,825.61
High sale price: $2,686.43 (July 21)
Low sale price: $1,498.11 (July 12)
PAST TWO WEEKS
Average sale price: $1,955.58
High sale price: $2,686.43 (July 21)
Low sale price: $1,498.11 (July 12)
At a quick glance, it would appear that the 2013 Panini Prizm Base isn't representative of the broader Giannis market.
Ultimately, it's all going to depend on how much hobbyists react (or overreact, as the case may be) to this living legend's historic achievement. For what it's worth, the card has experienced a noticeable rise in value over the past week:
If you've got one of the rarer 2013 Panini Prizm editions — including the Prizm Autograph that can easily fetch over $10,000 for a PSA 10 or the Prizm Silver gem mint that went for over $28,000 in May — the time to sell is almost certainly upon you if your plan is to cash in sooner rather than later.
But remember that this man is still nearly four years away from his 30th birthday, and could easily have another MVP (or two) and another championship ring (or two or three) in him.
The card markets can feel like a nausea-inducing carnival ride sometimes. But if you're in this thing for the long haul, it might just be the case that we're only just beginning to see the true potential of Giannis Antetokounmpo's basketball cards.