The Dallas Cowboys running back will offer two sets of digital collectibles starting Sept. 27.
Ezekiel Elliott and Ethernity Chain are announcing a limited-edition NFT collection, Boardroom can exclusively confirm.
The collection will feature interactive non-fungible token collectibles in a style first introduced with Dak Prescott's own NFT release on Ethernity chain, Ethernity chain is a digital art marketplace that produces authenticated NFTs. The news also comes on the heels of another major NFT collection to hit Ethernity Chain courtesy of Argentina and Paris Saint-Germain soccer icon Lionel Messi.
Now, the Cowboys running back will have his own place on the platform with both interactive and trading card-style collectibles.
The interactive collectibles shown above come with a special twist. After each week's performance, the NFTs will change colors and styles based on Elliott's fantasy football numbers:
If he goes above 15 points in standard scoring systems, he'll be depicted "on fire."
Between 10 and 15 points, he arrives slickly adorned in blue and silver.
For a performance below 10 points, Zeke will be icy white.
The interactive tokens drop Sept. 27, officially kicking off the Zeke collection.
The digital trading card NFTs also contain three versions based on ascending rarity — Common, Legendary, and Epic — all adorned with the Cowboy's career stats: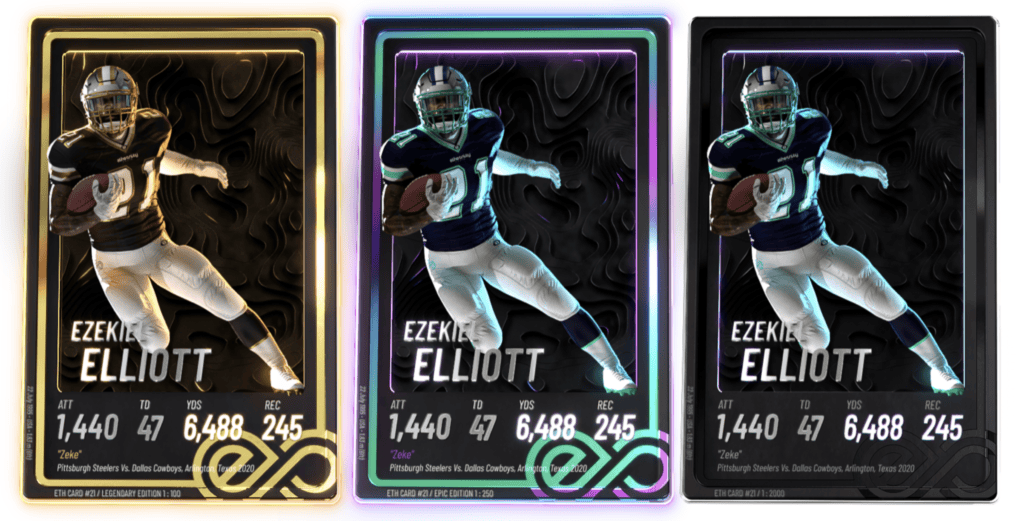 Sign up for our newsletter
Elliott rose to fame during his years at Ohio State University, where he helped lead the Buckeyes to the inaugural College Football Playoff National championship. Zeke was then drafted by the most valuable sports franchise in the world, the Dallas Cowboys, and has run for over 6,000 yards and scored 47 touchdowns.
HIs production on the field earned him a six-year, $90 million contract extension from the Cowboys ahead of the league's 2019-2020 season. Elliott has also inked endorsement deals with brands like Nike, BioSteel, and Wingstop, and has an ongoing clothing and apparel collaboration with Centre, including t-shirts, hoodies, and sweatpants. He's also an investor in golf equipment and technology company OnCore Golf.
To be sure, he's well-established in the world of endorsements and investments. And now, he takes his act to the blockchain for the very first time.