This story is part seven of Boardroom's Black History Month "Playmakers" series highlighting figures across sports, business, culture, and entertainment who are working to effect socially conscious change.
Part I: Patrick Mahomes | Part II: Karl Fowlkes | Part III: Nicole Lynn
Part IV: Chris Paul | Part V: Issa Rae | Part VI: Quinta Brunson
Broccoli City founders Brandon McEachern and Marcus Allen break down how they launched a Black staple in DC in Broccoli City and their plans for expanding Black culture moving forward.
The annual Broccoli City Festival in DC has become a Black staple in the nation's capital, but Broccoli City is more than a fun music festival.
It's a brand. A thriving ecosystem. An organization on a mission to mobilize, invest in, and celebrate Black culture and communities. Longtime best friends Brandon McEachern and Marcus Allen banded together to launch Broccoli City, and the brand is celebrating a decade in business this year.
McEachern told Boardroom that he's practically known Allen his whole life. They both grew up in Greensboro, NC, and Allen even said McEachern was one of the first friendship connections he's ever made dating back to second or third grade.
Fast forward to now, McEachern and Allen inked a deal with Live Nation Urban to expand their business. The concert giant now has an equity stake in the Broccoli City Festival. McEachern joined Live Nation Urban as director of cultural marketing, and Allen joined as director of event operations.
Sign up for our newsletter
"We've been working on this business model for a while, which is figuring out how we can create some sort of a record label model in live events," Allen said. "We want to build our brand, build community, and touch other entrepreneurs. This deal really allows us to leverage all of our partners and entrepreneurs we know to take Broccoli City to the next level and do more business."
McEachern and Allen have mastered hosting music festivals, but the pair has much bigger plans to grow Broccoli City's ecosystem.
Building Broccoli City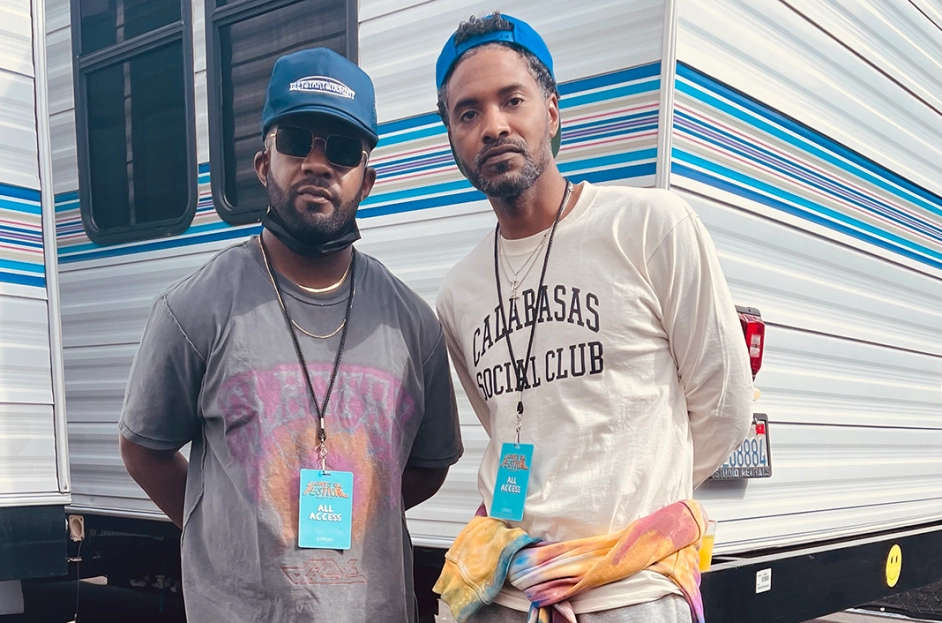 McEachern used to visit DC every summer growing up since the majority of his family resides there. When he and Allen decided to launch Broccoli City in 2007, they picked their brand's name to show appreciation for their hometown of Greensboro.
"I've always had an affinity for Washington, DC, shoutout to Parasuco jeans," McEachern said.
While Broccoli City is rooted in DC culture, the brand's inaugural music festival actually happened in LA since McEachern moved there after college. There are many moving parts to Broccoli City's business and evolution since it was actually founded as a streetwear brand. McEachern launched the brand with a t-shirt line before deciding to move into events. Broccoli City hosted its first event on Earth Day back in 2010 with performances from Dom Kennedy, Kendrick Lamar, and more. The premise of the event was to bring a diverse crowd together through music and educate them on environmental issues.
After that event, Allen swooped in to help McEachern deliver on expansion plans that ultimately skyrocketed Broccoli City to the next level in a new market.
When Allen got a government contracting job in DC, he said he was culture-shocked by how lively the nightlife scene was. That revelation, mixed with seeing folks enjoy their social lives and work hard every day, drew the pair to move Broccoli City from LA to DC. McEachern and Allen hosted the first Broccoli City festival in DC in 2013, and it's been history ever since.
"When I moved out here, I was like, yo, muthafuckas is going hard in the paint," Allen said. "I was like, man, the Black culture is here, and people have jobs. They party, but they would get what we're trying to do."
Future, Anderson Paak, Lil Wayne, Summer Walker, Ari Lennox, 21 Savage, Lil Durk, Jhené Aiko, Wale, Lil Baby, and Jeezy are just some of the iconic artists who have graced the Broccoli City festival stage over the years.
Avid Broccoli City festival-goers will probably stamp the 2018 festival as the most iconic yet. The lineup included the Migos, HER, the late great Nipsey Hussle, Daniel Caesar, Miguel, and Cardi B. The Migos and Cardi B headlined the show, and it was a night to remember, with fans rushing to the stage to see Cardi B's last performance before she birthed her first child. There were rain showers and excited hands in the air, and the Migos even kept the energy up when a few speakers on the stage blew out.
A time to remember.
Like many other live music events, the festival was canceled in 2020 and 2021, but this gave Broccoli City an even bigger opportunity to pivot to its community-building work.
The Broccoli City Festival returned in May 2022, and McEachern and Allen inked the deal with Live Nation Urban soon thereafter. The concert brand first showed interest in partnering with Broccoli City in 2017 when the festival booked Solange for a performance. That's when their co-promotional partnership started. McEachern feels like Broccoli City is one of the best festival curators in terms of putting artists together, which he believes ultimately prompted Live Nation to launch a deeper partnership.
"We're coming into this very fast. The biggest thing is that this deal was about Broccoli City getting bigger, but it was much more about us being able to build a bigger business," Allen said.
Fostering Community
McEachern said Broccoli City has always been in the background helping minority entrepreneurs, which is why the brand puts community-building at the center of all of its work. Aside from the festival, Broccoli City also hosts an annual conference, job fairs and even once partnered with &pizza to run a pizza and cocktail bar in DC. McEachern and Allen are big on leaning into organic opportunities that could help the communities they are invested in.
"We've always been extremely open with our information; that's what the game is about," McEachern said. "Both of our parents are teachers, by the way, so it's always been an 'each one, teach one' type of ordeal with us."
McEachern said people would always ask him and Allen how they got started, so it quickly became apparent that they needed to add new components to their growing brand. Broccoli City hosted its first conference in 2017 in conjunction with the festival.
"At the time, a lot of festivals and things of that nature weren't necessarily doing events like that," McEachern said. "We created the conference to educate our peers on how to do their own festivals and connect with like-minded individuals so they can get their own partnerships."
Broccoli City works closely with event promoters, community activists, and Black businesses. In the next 10 years, Allen said he sees Broccoli City hosting live festivals and events across the world for more Black communities, and the brand may even touch Africa one day.
Becoming a Local Staple
The Broccoli City brand is so eccentric to DC and is largely due in part to its consistent expansion and focus on building up the Black community and celebrating Black culture. When you step into a Broccoli City event, you'll likely hear some Go-Go music, see a friendly entrepreneurial face, and bump elbows with new connects. That's the type of environment McEachern and Allen are keen on fostering.
"We're not from DC, but we're in DC," McEachern said. "We built this festival, and we've even given free space to vendors on the ground. That part was easy for us because it's the culture. We're celebrating it."
Read More:
Looking back on one year with ChatGPT & OpenAI, AI fakes rising, new tech from Amazon, and much more in this week's Tech Talk….
Sign up for our newsletter