From entertaining Utah Jazz fans inside Vivint Arena to traveling to Texas to do sideline reporting for Athletes Unlimited, Mariluz Cook is ready for it all.
This wasn't always the plan for Mariluz Cook.
When the Utah Jazz in-arena host was headed to Florida Atlantic University — "Go Owls," Cook said of her alma mater that unexpectedly reached the Final Four in the men's NCAA Tournament at the first chance she got — she wanted to be a prosecuting attorney. She even had an internship at the state attorney's office where she was attending homicide trials daily.
"It was very heavy," Cook said of the experience.
One day, as she was walking around campus, she was stopped by someone in the athletics department who was handing out flyers for an upcoming series for the school's baseball team.
"He's like, 'Oh, we're playing Miami this weekend. Cincinnati next weekend.' I was like, 'Oh, I know. I'll be there,'" Cook recalled.
Arriving at college, Cook loved sports — her brother even played college baseball — but her friends had different interests, leading her to attend most events by herself. Her solo adventures captured the attention of the department, and it wasn't long before Cook was interning for the marketing department with FAU Athletics.
By the time Mariluz graduated from FAU in 2019 with a degree in both communications & criminal justice, she was a staple of the FAU athletics community. However, never one to slow down, she also participated in the Miss America Organization on the side. Her competitive spirit led to five titles, including the longest reign as Miss Miami in the history of the entity. She met ESPN and SEC Network reporter Laura Rutledge, who would MC many of the competitions and was Miss Florida herself in 2012.
Sign up for our newsletter
In Rutledge, Cook saw someone who married her love of sports with the suite of strengths that sparked success on the pageant circuit. During her time at FAU, Cook began seizing on-camera opportunities. Seeing Rutledge's success in the sports industry, it didn't take long for Cook to envision herself in a similar situation.
"I'll never forget the feeling of doing my first interview. I was like, 'OK, this is what I want to do," Cook recalls.
In just nearly four years since graduating, it's been a whirlwind for Cook. She's taken center stage in a number of places, from the Big Sky Conference to the Utah Jazz to helping host NBA All-Star Weekend to Athletes Unlimited. The rising star in the sports media industry hasn't looked back since.
Boardroom caught up with Cook ahead of the Jazz's regular season home finale on Saturday against the Denver Nuggets to talk about her journey from the beaches to the mountains, her favorite experiences thus far in her young career, and what she hopes the future holds.
Note: This interview has been edited for length and clarity.
GRIFFIN ADAMS: Out of school, you really got your feet wet in the industry as the Director of Broadcast and Digital Media for the Big Sky Conference. What was that experience like?
MARILUZ COOK: Out of college, I applied for a bunch of jobs. It was 72 (jobs); I kept a spreadsheet. There were some that I was like, "OK, this would be a cool job." But some of them were internships and, in sports, you just go wherever the opportunity is pretty much, whatever it is. And the Big Sky job was the dream job for me out of the 72 I applied for. I was really lucky that I got that one. It was awesome.
I was just doing digital stuff for them. But then, it was really cool to be a part of the start of the ESPN partnership. I'm really grateful for my time there. I had never been to Utah prior to my job interview.
GA: So, now that you've been here for a few years, how do you feel about Utah?
MC: I absolutely love Salt Lake. I love living downtown.
GA: How did living here help you advance in your career?
MC: Well, I saw a job posted with the Utah Grizzlies (ECHL team) to be an in-arena host for them. I applied for that just because I was like, "Oh, I've never worked in hockey. I love hockey. That would be super cool." So, I did that — that started fall of 2021. And then fast forward a few months, there are only so many sports teams here in Utah. The Utah Jazz reached out to me and said they wanted to come to watch me at a (Grizzlies) game. They came, watched me at a game, invited me to come to shadow someone at a Jazz game, and then offered me a contract.
Salt Lake has been really good to me. Not even a few months — a few games in with the Jazz — the sports director at KSL reached out to me and asked me to come and anchor for them. Then, they asked me to do sideline reporting for them in the fall. So, it's really cool.
It's Small Lake City, right? All these opportunities have come up. I had all this going on and honestly, I was really, really stressed in the fall. I had four jobs; I'm juggling five different things (Cook was also recovering from a torn ACL at the time from skiing, typical Utahan.) That's why I left the Big Sky because I just had so much going on between the Grizzlies, the Jazz, and then KSL. And then, getting to do [Athletes Unlimited] eventually, I wouldn't have been able to go leave for five weeks and do that if I had been with Big Sky.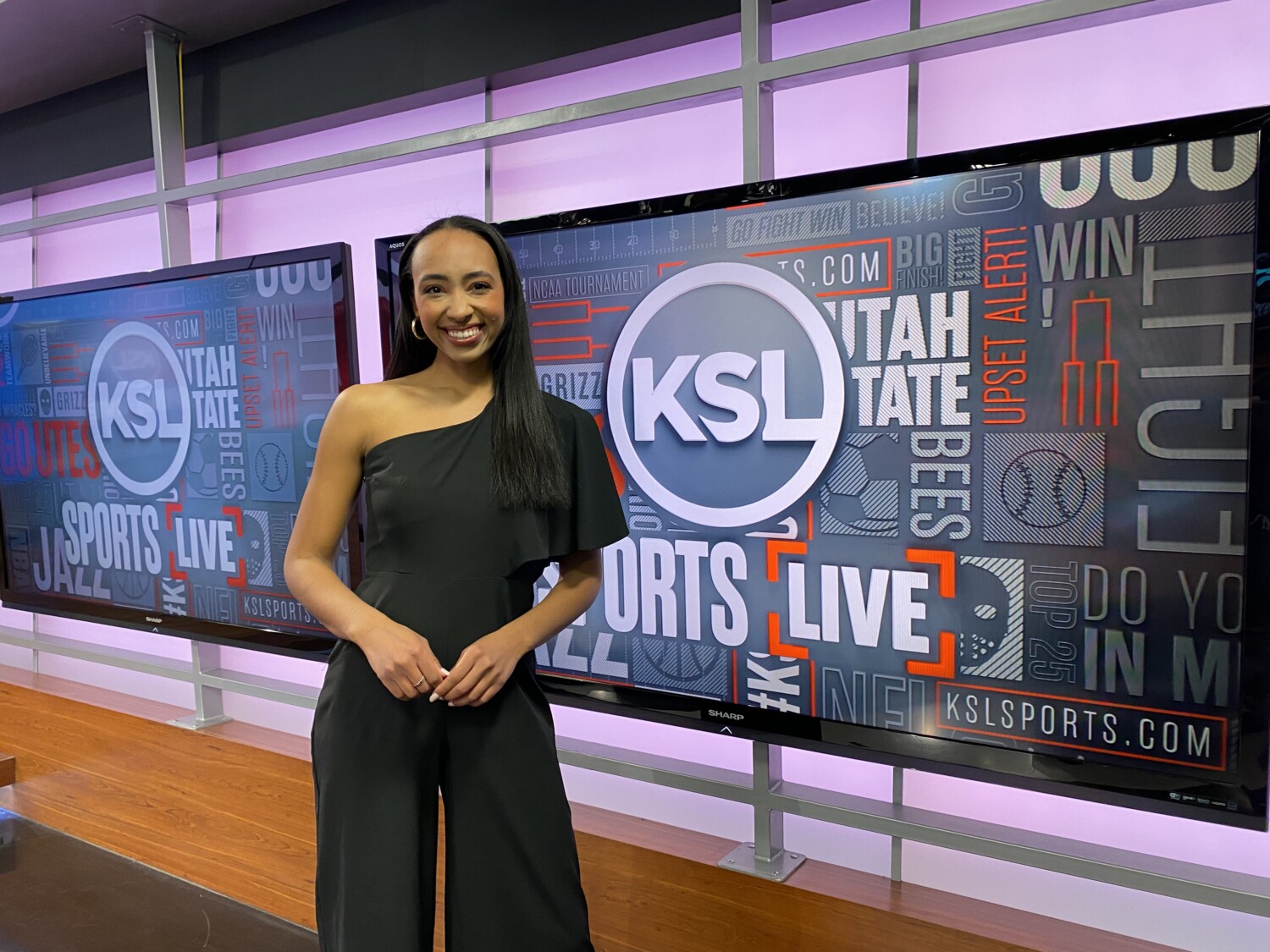 GA: Speaking of Athletes Unlimited, you recently wrapped up being a sideline reporter through its basketball season. How did that come to be and how did that go for you in Dallas?
MC: My agent, in January, he was like, "Hey, this opportunity with AU's opening up. They want a sideline reporter, but someone who can also produce content for their broadcast." So, I told him I was interested and then just had a meeting with some people from AU and they brought me on. That's kind of how that happened. It was the first job that I've gotten through my agency. (Cook is represented by The Montag Group, acquired by Wasserman in January 2022.)
It was really cool to be a part of that. I was asked to do that for the basketball season. Hopefully, I'll get to do more stuff with them moving forward. I think like with Big Sky, right? I covered so many different sports, both men's and women's sports. And I think especially being a woman who was no athletic growing up, it gives me this extra layer of appreciation I think for women who are just really, really gifted in their sports. It makes me proud to be a woman even though I'm not doing what they do.
I hope that they get to a point where it just grows more and there's more of a fan base in person because I think they have really good viewership, from what I understand. People who are tuning into the broadcast and whatnot, it seems like it's really well received. I will say, with it being in such an intimate setting, if you will, I really got to know people's families — their parents or siblings — and people were just so happy to see their daughters playing here domestically.
Being in that bubble with them and just having those five weeks, I think it allowed me to build trust with a lot of them fairly quickly, which was really nice. Then again, just getting to be there, like the league, it's the same 44 players throughout the whole season. So it was just really cool because I noticed the little changes.
The access that Athletes Unlimited really prioritizes, they really want fans to have a good understanding of who people are. I think there was a big emphasis on highlighting people on who they are outside of basketball, too. … I think Athletes Unlimited really emphasized that, and it was something that was really appreciated by the athletes there.
GA: Circling back to the Jazz, you were chosen as a limited number of in-arena hosts across the NBA that got to help host certain events during this year's All-Star Weekend. What did you take away most from that rare opportunity?
MC: All-Star Weekend was so incredible. It was really, really cool. I consider myself so fortunate to have been a part of it because the NBA only picked a certain number of hosts. I really don't take it for granted that I got to be a part of that. It was really special.
I got to host Rising Stars on Friday and then All-Star Saturday Night. It was really cool to get to two really big events that were both at Vivint Arena.
I will say, my favorite thing was getting to meet other hosts from around the league. I love Salt Lake City, right? So much. And I was so excited about All-Star Weekend, so I reached out to all the hosts and I was like, "Hey, I want to get together for dinner, drinks, whatever." We got all the hosts together and we went to Flankers. They were like, "Mariluz, no one has ever done this before." And they said it was like the most "homey" All-Star ever. They were just so thankful for the warm welcome. It was so cool.
GA: A different experience for them, I'm sure. Definitely different from the one I guess Shaq and Chuck had in SLC, given their comments on national TV.
MC: Oh my. I do love Shaq, though. That was a really cool part of that weekend. He was just chatting it up with me. It was very, very fun. It was also my birthday, so it was just a really cool way to spend my birthday. It was awesome to see our city buzzing. It was really magical.
I went to AU right after All-Star, literally a day or two after, and then I come back and it's like the weekend never even happened.
GA: Coming up on four years in the industry since graduating from FAU, and you've accomplished quite a bit already. Where do you see yourself in the future? What's the end goal for you?
MC: Well, it's funny because I'd say that I was a big baseball person and the Big Sky's the only Division I conference in the country without baseball. So, it just really pushed me outta my comfort zone. And then you combine COVID and The Last Dance and everything, I got really into basketball. So at some point, I kind of just did away with the whole, 'oh, I wanna work in the MLB' dream and I really leaned into the NBA. I really honed in on it — this is what I love, this is what I want to do.
I don't necessarily want to be an on-court host for the rest of my life. Sometimes I still have to pinch myself and be like, "Holy crap." I remember when I was writing down in my journal — I wanna work in the NBA — and here I am. It's really, really cool. I just have to remind myself constantly how cool it is, because you lose sight of it sometimes. I would never want to get too used to it.
It's interesting because I feel like my goals are constantly evolving. The more things I do, the more I'm like, "OK, I really like this. I really like that." I think in my career, I've had the opportunity to do on-court stuff as a host. I've done sideline reporting. I've done studio hosting. And so, I see myself in a role where I'd really like to be on the national level, getting to do hosting, studio hosting and also getting to be on the sideline.
I look at Maria Taylor, I look at Laura Rutledge, I look at Malika Andrews. These are women that you're seeing on national broadcasts. You're seeing them breaking down your sports news in the morning. And I love that.
I'm a morning person, so I think that'd be really cool to be on something like Get Up! but also find myself on the sideline, whether it's the NBA Finals or playoffs. So, I don't wanna hone in on one thing. I love all sports. I think being in roles where I'm getting to do multiple things — so what I'm doing now but on a bigger scale.
More Sports Media Stories:
Low ratings were a major factor, but far from the whole story — let's take a closer look at the forces that ultimately got Winning Time cancelled after just two seasons and 17 episodes….