St. John's basketball's Julian Champagnie and LSU baseball's Jacob Berry join a BlueChip team that includes Victor Cruz, Mike Moustakas, and Ashley Cole.
BlueChip, a platform that helps athletes across the world of sports build and monetize their personal brands, announced its first two college NIL athletes Wednesday, Boardroom can exclusively share.
The distinction belongs to St. Johns Red Storm basketball player Julian Champagnie and LSU Tigers baseball player Jacob Berry, who will now have access to BlueChip's broad range of resources for developing their brand footprints through apparel and products with a personal, fan-first touch.
"With the new NIL rules, college athletes like Jacob and Julian have endless opportunities to be able to tell their stories and create their own brands," said BlueChip board member Todd Montesano in an official release. "We're excited to work with both of these rising stars as well as other college athletes to help them design logos and create apparel that will allow them to take ownership of their brands, telling their stories in their own unique ways that resonate with their fans."
Champagnie, a 6-foot-8 Brooklyn native, is averaging 21 points and 7.1 rebounds per game this season, figures that rank No. 2 and No. 11 respectively in the Big East through his first eight games.
After making the conference's All-Freshman Team in 2020, he followed up as a sophomore by averaging 19.8 points and 7.4 rebounds for the Red Storm, earning All-Big East First Team and Co-Most Improved Player of the Year honors.
His "Julian Champagnie Collection" with BlueChip features black-and-red color schemes and takes inspiration from New York City, including an all-new symmetrical "JC" brand logo that speaks to his ability to make things happen at both ends of the basketball court. Special accents include lettering in New York's classic subway typeface and the same chain-link patterns found around so many of the Five Boroughs' most famous courts.
"I grew up on the basketball courts in New York City and I'm excited to work with BlueChip to bring a collection that captures the spirit of these courts to fans," Champagnie said on the occasion. "I drew so much inspiration from the sights and sounds, the chain-link fences that line iconic courts, the subway lines I took to get there, and the current journey I'm on in my college career.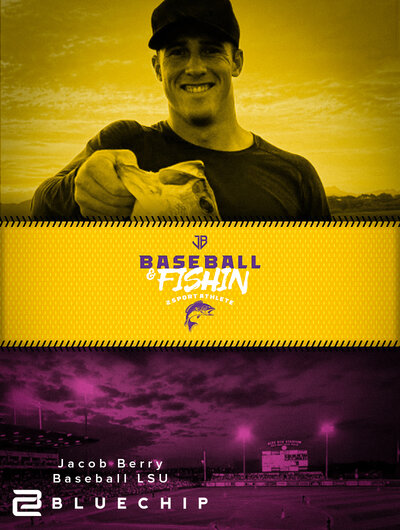 Jacob Berry, an All-American infielder as a freshman for an Arizona State team that won the Pac-12 title and made it all the way to Omaha for the College World Series last season, turned heads around the NCAA when he opted to transfer to LSU for the 2021-22 campaign.
"The Jacob Berry Collection" features purple and yellow designs that fans of the Bayou Bengals will instantly recognize. His namesake "JB" logo recalls the shape of home plate, while "Berry Bombs" — his chosen slang for his home runs — works its way into the mix as well.
And he's not just here for the baseball, either. An enthusiastic angler, Berry's love of fishing rounds out his BlueChip collection.
"The Jacob Berry Collection on BlueChip's platform is a true reflection of who I am and I'm excited to bring to fans," It's an exciting opportunity to be able to craft my own brand and create product that help me show fans what I'm truly passionate about," said Berry.
To learn more about BlueChip, which features an athlete roster than includes Victor Cruz, Mike Moustakas, and Ashley Cole, visit  https://bluechipteam.com, @bluechipteam1 on Twitter, and @bluechipteam on Facebook or Instagram.
Sign up for our newsletter