Boardroom catches up with the Atlanta icon to celebrate 25 years of Outkast's ATLiens, his apparel collection with Bleacher Report, and his new album with Sleepy Brown.
Was 1996 the greatest year for hip-hop records? All Eyez on Me, The Score, Reasonable Doubt, Ironman, Hard Core, and Beats, Rhymes and Life — all classics of the rap canon.
But they all came from the homeworld.
Meanwhile…
"GREETINGS, EARTHLINGS," drones the metallic lead-in to Outkast's first great work of science funktion, ATLiens, an embrace of the otherness foisted uponBig Boi and André 3000 one year earlier at the Source Awards. Under the coastal hegemony of Death Row andBad Boy, Atlanta was extraterrestrial; OTP didn't mean Decatur as much as "Off This Planet."
But the boys were unbothered, and for boom-bappers and backpackers alike, their '96 sophomore LP was a close encounter of the crumblin' erb kind.
Sign up for our newsletter
A quarter-century later, Antwan André Patton Sr. still likes fish and grits and hearing me and you and your outer space soul choir say o-yea-yer. So he's joined forces with Bleacher Report to celebrate that double-platinum future-psych triumph with an apparel and merch collection that's all southern-fried E.T. chic.
To mark the occasion, Boardroom caught up with Big Boi to discuss the ATLiens drop, his upcoming album with Sleepy Brown, how his many nicknames came to be, and the A's evolution as a sports town.
Here's our conversation with Big Boi edited for length and lightly edited for clarity.
SAM DUNN: How do you do justice to such a generational record in an apparel collection?
BIG BOI: It was the spirit of the record and the city that we represent. The jersey came from the Braves collaboration, and the hats and the sweatshirts with the aliens and the [release] date on it and the colors — it's about standing the test of time for 25 years. Everybody know what those colors mean.
SD: Did you guys do something for the 25th anniversary of Southernplayalisticadillacmuzik?
BB: We did a 20-year anniversary of the group when we went on the Outkast 20 tour. [Seven] years after that, with everything, you know, being at a standstill, we got time to pay homage to ATL in the proper way.
SD: Was this an idea that you had, or did someone come to you with a pitch?
BB: We get in a huddle every couple of months to figure out certain things and certain milestones. We have a phenomenal management team, and with the brand being so prestigious when we did the Hawks drop with Bleacher Report, it was like, hey man, we need to do something else — let's do it for ATLiens. We started designing. Let's go. It's dope.
SD: Which pieces are you wearing the most often?
BB: The jersey. I had a chance to announce the players at the Braves game a couple of weeks ago and got to rock the jersey and walk through the stands. The people just was going crazy for it. Actually, I saw Michael Vick with it on yesterday.
SD: I like to call him Sir Lucious Left Hand.
BB: [Laughs] For sure, man. That's my dog.
SD: He's like an Atlanta shaman. Do you have a preference between the blue jersey and the white?
BB: I like the blue.
SD: I think it makes the green lettering and the alien theme of the album pop. Why specifically "KAST" for the hat?
BB: A little nickname, you know what I'm saying? Everybody know what the Kast is. Like when you call me Big Cadillac. Same thing.
SD: I know "Two Dope Boyz (In a Cadillac)," but is the Big Cadillac nickname a more recent development?
BB: Yeah, like the day before yesterday. I was walking through the airport, someone called me Big Cadillac.
SD: Was it Michael Vick?
BB: Nah, it was a girl.
SD: I was always partial to "Francis the Savannah Chitlin Pimp." Is that nickname retired, or still active?
BB: No, that's still the heart and soul of it. From originally being born in Savannah, Gullah Geechee, from my family down there.
SD: When Stankonia came out, I thought "Francis" was maybe Steve Francis.
BB: Francis came from Tom and Jerry, actually.
SD: Really? That solves a bit of a mystery.
BB: Yeah, I think he was the brown cat on Tom and Jerry. The dude that smoke cigars. That's Francis. (EDITOR'S NOTE: Cursory googling points more toward the yellow-brown cat "Fancy-Fancy" from Hanna-Barbera's Top Cat.)
SD: There was this idea out there that Atlanta wasn't a good sports town. Suddenly, a soccer team is putting 70,000 fans in Mercedes-Benz Stadium. What's the dynamic now?
BB: I think a lot of it got to do with winning. It's Atlanta pride. Win, lose or draw, we gonna come in there.
To have Atlanta United come down — I had a chance to go to the soccer games, and it's one of the most incredible experiences ever. To see people standing on their feet the whole time — I never thought I could see something louder than a Falcons game. I was there when they won the championship. I was like, shit!
SD: The Footie Mob is serious.
BB: It's nonstop action, man. To sit behind the goal in a suite, waiting for the ball to come through and hit the chicken tenders and knock the Sprite off the table — you get a chance to be a part of the game.
SD: And the Hawks are cool again!
BB: It's a good feeling, man. It's taken them back to the Dominique Wilkins-Spud Webb era. I went to a couple of playoff games and the energy was incredible. The arena's super dope.
And just to see the A-Town love in there, it's hard for an opposing team to come in and try to play that hard. Unless you got shooters.
SD: Being the Dominique Wilkins of the hip-hop game wouldn't be too bad.
BB: It's all about your drive, you know what I mean? As long as you're active and still in it, I like to say this is reserved seating until you get up and walk away. I'm still here, man. Still banging and keeping it going.
It's all about evolution. As long as you evolve and give the people what they want, man, you just gotta keep yourself together, stay manicured and pedicured, and get you some facials. Stay handsome with a strong back. Just keep it moving. Stone cold ladies man.
SD: This begs another question though. What's colder: Stone cold, or a "cooler than a polar bear's toenails?"
BB: Polar bear's toenails. Stay on ice.
SD: Where did that phrase come from?
BB: From a teenage mind, and ATLiens being out of this world with it. Just coming up with the most mind-boggling, thought-provoking lyrics.
SD: So that one's not from Tom and Jerry?
BB: Hell nah. That came from God. I used my gift.
SD: Daddy Fat Sax, Billy Ocean, Sir Lucious Left Foot. These personas are all part of the Big Boi mythos. And you just came up with all this as a kid?
BB: It's always organically created, never genetically modified. When you cook it from scratch, that's like grandma's recipe. Big mama. That's going to be around for generations.
SD: The Big Boi brand is also associated with your Dale Murphy throwback jersey from the "Skew it on the Bar-B" music video. Mitchell & Ness wasn't too cool before then.
BB: Actually, the first [throwback] I rocked was the Nolan Ryan Houston Astros Jersey with the rainbow in the Goodie Mob "Black Ice" video. Style is all about personal preference, and I just loved the colors, so I went on a binge. I was good friends with this guy called Andy [Hyman], who had this store called Distant Replays. I'd just get 'em all in.
I loved them because they was great to perform in. I used to get up there and sweat my clothes out, but you get up there and those jerseys, man, it just was comfortable and loose and you can move around.
SD: Have you ever met Dale Murphy?
BB: It's a long time ago at a baseball game that my granddad took me to. Actually, [André 3000] worked at Fulton County Stadium selling peanuts and popcorn and stuff. So I used to go and catch the bus after school to go up there to meet him.
You see Deion Sanders pulling up in a Ferrari and all this, it was wild. Just 10th-graders trying to dream.
SD: I'm trying to picture Dre selling peanuts.
BB: "Popcorn, peanuts, and pussy!"
SD: If that isn't the name of a single or a B-side at the very least, I don't know what is. And you know the only crew that could produce it: Organized Noize.
BB: Oh yeah, we're still on deck with production from Organized Noize on this new Big Sleepover album. Everybody dropped.
SD: What do we need to know about the record?
BB: Big Boi-Sleepy Brown collaborative album. 16 brand new cuts, and it's amazing.
You know, I've been working with Sleepy Brown since the very first Outkast song, "Player's Ball," Southernplayalistic, "So Fresh, So Clean," "The Way You Move." And when I started taking him on tour with him, with me, he was like, "Hey, let's make some new some new records." We just started banging out records, man, and it turned out monumentally great.
SD: What's Sleepy's legacy?
BB: He's the soul and heart of Organized Noize. He has that buttery smooth voice, you know what I mean? He's the melodic maverick, and he's like my big brother, man. He's also an Aquarius, so we got that great Aquarius thing going on. We really, really in tune with one another and he's just a great guy.
SD: The single's out, but how would you characterize the sound on the album overall?
BB: Futuristic. We never go back. Like Dre says, spaceships don't come with rearview mirrors, you feel me? So that's where the evolution comes in lyrically, beat-wise, and with the melodies. We don't try to revisit something we've already done, just got to keep it new and fresh. That's what keeps us motivated.
SD: Are there big-time features on The Big Sleepover?
BB: Only features we got on this record is with Killer Mike. It was going to be me and Brown, and then Killer Mike just so happened to pop through the studio.
Killer Mike is a natural, and like I always told him, man, just keep pushing, and he just kept pushing and kept evolving. He got a dope album out — we'd been working on it in my studio, [it's] called Michael, and his record is crazy. He's just a talent, man. The world gonna see, he's one of the best.
SD: For the Gen Z-ers or hip-hop casuals who don't really know Outkast, what's the pitch for them to check out this ATLiens collection and go through the records?
BB: We are the creators of "So Fresh, So Clean," so we gonna get you fresh every time. You want to be fresh from head to toe and let everybody know. Go on that Bleacher Report Oukast capsule and get you some gear, man.
The music speak for itself — once you tap into it, you just find yourself going deeper and deeper and deeper into Atlanta, into the rabbit hole. That's how you make fans. Outkast spans almost three generations, and we started out young, 16, 17 years old. There's no expiration date on greatness. So long as your heart's in it, man, just keep at your craft and they're going to come.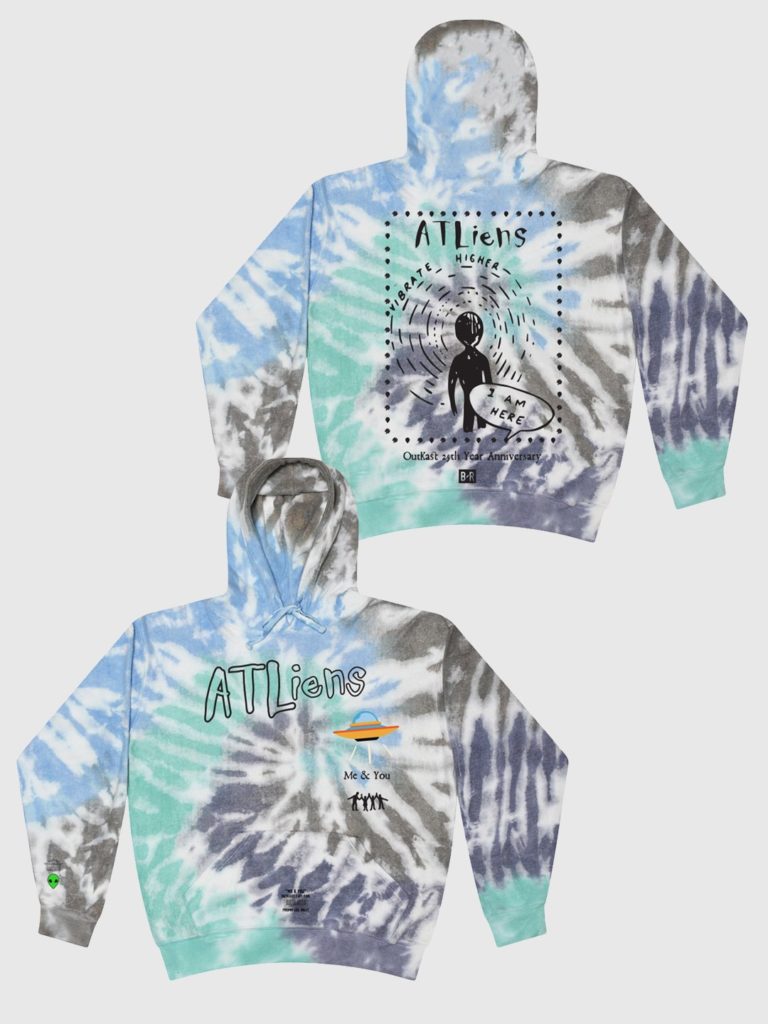 SD: I have specific memories of Stankonia at middle school dances. Outkast, Nelly, Ludacris. You learn a lot about your peers and about yourself in those scenarios.
BB: It's a good thing when people come up to you and be like, "man, your music helped raise me." That's a powerful thing.
SD: Last one: Aquemini turns 25 two years from now, Stankonia in four years. How do you and Bleacher Report top this?
BB: They're killing it, man. We got a nice little think tank going, and they got some great people, designers, and staff coming up with these designs, and they're hitting it out of the park. We got a little bit of time to marinate on it, and I know it's going to be great.
And we just here, man, and all we going to do is keep making this bomb-ass music and keeping the brand fire-hot and keeping our foot on they motherfuckin' neck. 'Cause it's not going to stop.
---
Click here to check out Bleacher Report's "Rewind" apparel and merchandise drop featuring Outkast's ATLiens 25th anniversary collection. Click here to view the Outkast-B/R Atlanta Hawks collection.