The four-time MVP is taking a break from contract talks to lead a charity flag football tournament with RX3 Growth Partners featuring Josh Allen, Desmond Ridder, and more. Boardroom sat down with his co-founder, Nate Raabe to discuss the growth equity firm and its annual philanthropic event.
Aaron Rodgers has a lot on his plate these days. The Super Bowl champion is in the midst of intense discussions with a number of NFL teams as he sorts through his football future.
Hot off a silent retreat and with an eye on what's next, Rodgers is taking a break from it all this weekend as he pulls up under center for RX3 Growth Partners' second annual charity flag football game. Rodgers co-founded the growth equity firm in 2018 and has subsequently helped foster its growth as it connects top talent in sports and entertainment with venture opportunities.
On the field in Souther California, Rodgers will be joined by a bevvy of pros, including Josh Allen, Sam Darnold, Desmond Ridder, Kyle Allen, Will Levis, and more.
In the run-up to the event, Boardroom caught up with Rodgers' co-founder, Nate Raabe to discuss how the firm works alongside celebrity investors and the importance of the event.
Sign up for our newsletter
Twenty years ago, Raabe met Rodgers when they were both students in Northern California. Prior to starting RX3, Raabe was a partner with Roth Capital, where his friendship with Rodgers caused him to see opportunities for companies to connect with athletes in different ways than they were traditionally approached.
"I've known Aaron since college," Raabe told Boardroom. "I went to Santa Clara. He went to Cal Berkeley. … [We were] close friends first and then about 10 years ago started doing business together. I saw first-hand the access that he got being a professional athlete."
Early on, alongside their third founder Byron Roth, they identified an opportunity with early-stage investing. Although working with early-stage companies can be considered risky, there is also a high potential for return. For Rodgers, he was presented with a huge number of endorsement opportunities, but he wasn't always interested in serving as a face of a company amidst all of the other responsibilities that he had as a professional athlete. More importantly, he saw potential for others to be able to benefit from participation as well, but saw a gap in terms of an entity that could pool those opportunities. "Aaron said, 'I think there's a better way where we can get even more access by having a number of different athletes and influencers involved,'" Raabe recalled.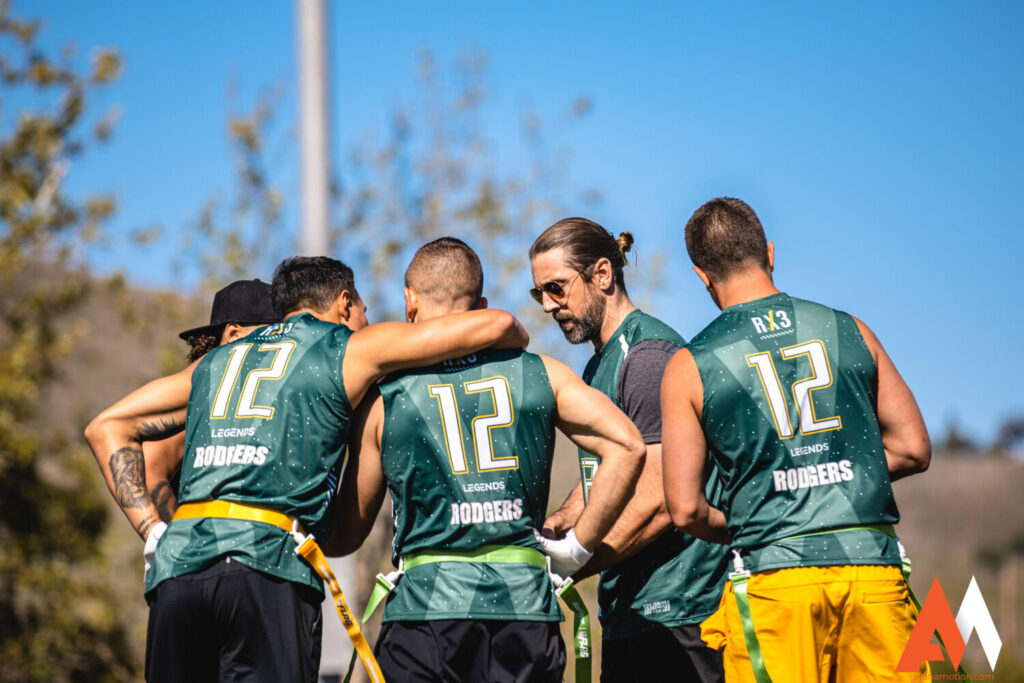 They launched a fund, which allowed their clients to diversify their investments and mitigate some of the risk affiliated with early-stage companies. Together, they created something that Raabe calls "pretty special."
"We don't like to think of ourselves as a traditional athlete and celebrity fund, but rather we're a consumer growth fund with institutional infrastructure and resources that just happens to have a number of kind of well-known athletes and celebrities that are investors with us," Raabe said. And through the years, they have assembled quite the list of partners, including Josh Allen, Vanessa Hudgens, and even Kevin Hart's Hartbeat Ventures.
Today, their portfolio is robust and includes a number of recognizable brands, such as hims, Mack Weldon, Therabody, CorePower Yoga, and many more.
As they recruit new investors, Raabe and Rodgers serve as exemplars of what's possible. "When we're going to other athletes and other investors and telling them, 'here's what we're doing. Here's the relationships that we have and who we're co co-investing with.' In addition, we have a significant amount of our own capital behind it," Raabe said. And once invested, RX3 does not ask their celebrity partners to do anything in return. "We don't require any of our athletes or celebrities to do anything other than make an investment."
Most importantly, RX3 built itself around authenticity. This core value allows the celebrity investors to feel connected to their investments, even when it doesn't require much from them beyond writing a check. "When you're actually investing in the brands, you're helping the brand because you're using the brand, you're supporting the brand, not because you're getting paid by the brand," Raabe said. "So I think that's something that builds lasting relationships, both on a brand endorsement or brand to athlete brand ambassador level as well as an investor, too."
Throughout the year, RX3 gathers their investors at a number of tentpole events that allow them to connect with one another and learn about additional opportunities.
"The community of RX3 is something that's very powerful and we're very proud of. And how we're able to get a lot of these athletes and celebrities to attend the events is we make them events that people want to attend and [they include opportunities to] be introduced to other people that they wouldn't traditionally be able to interact with, whether it's other athletes or whether it's business professionals or owners of sports teams or whoever it is.
"We are able to provide value to them and don't ask for really anything in return."
Rodgers and Raabe noticed that charity galas were taking over people's social calendars and they wanted to do something different. "We realized a lot of the NFL quarterbacks who are involved in our funds are right here in our backyard in Southern California. So we said, let's put together a charity flag football tournament where we get a couple of the big name current and former NFL quarterbacks to, to play, um, and then fill it out with people who are not professional athletes in a unique way, which is a kind of a once in lifetime experience."
Thus, the charity football tournament was born. In its first year, they brought in nearly $500,000 for local charities. This year, they're making it even bigger, as they raise funds for the Boys & Girls Club and Challenges Athletes Foundation. For Raabe, he expects a great event and some surprisingly good football. He recalled last year, saying, "it got a lot more competitive than I think we originally were thinking it would with it being a charity flag football event … It was a lot of fun."
While questions continue to swirl about Rodgers' football future, RX3 will keep him grounded long after his final snap.
MORE FROM THE BUSINESS OF SPORTS
Interview
From lifelong sneaker collector to refined tastemaker, the evolution of Devin Booker can be simply seen in his first signature sneaker. …