All eyes are on the QBs, from this year's rookies to all-time legend Tom Brady. Ahead of Week 1, here's everything else you need to know about the football card hobby.
What a crazy year it's been with sports trading cards. The NFL license is leaving Panini for Fanatics, eBay already eclipsed its 2020 card sales year-over-year (and suspended PWCC for shill bidding practices). But amid all the chaos and reorganization, it's time to focus on the key storylines surrounding a major event that's suddenly just days away:
The start of the 2021 NFL season.
As we approach the Week 1 opener between the Cowboys and Buccaneers on Sept. 9, let's discuss the major themes collectors and investors need to get in tune with as it relates to the football card hobby.
1. Will Justin Herbert's Market Continue to Grow?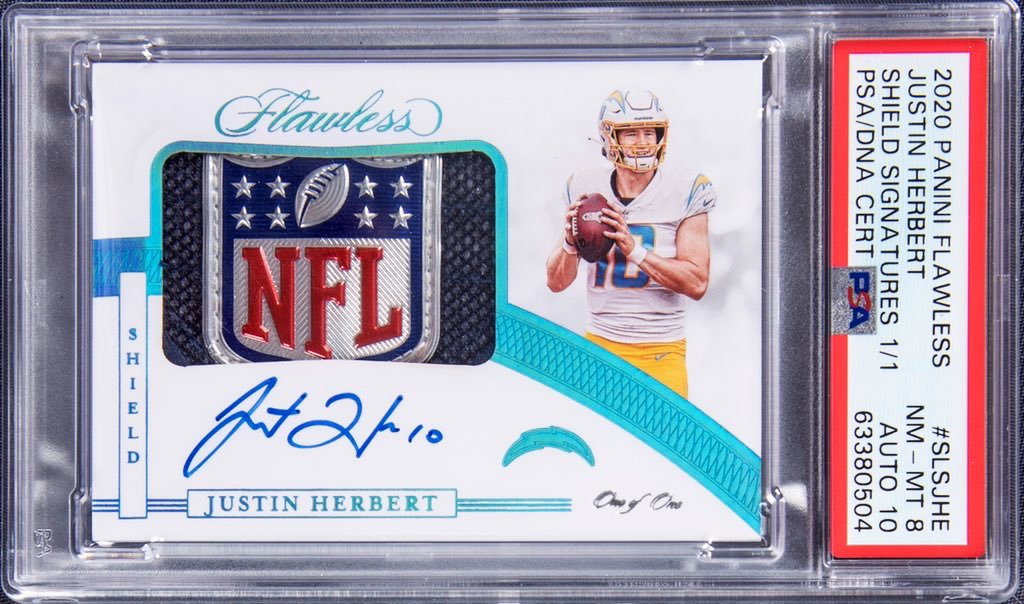 Justin Herbert took the 2020 NFL season by storm, shattering multiple rookie QB records — and his card values reflected as much by season's end. Herbert's prices have plateaued during the offseason, but still hold the best value of any 2020 QB by a mile. 
Entering the season, the big question is this: Will Herbert continue his hot play from his rookie season or will he have a sophomore slump? Herbert is in a division with veteran QBs such as Drew Lock, Derek Carr, and Super Bowl LIV MVP Patrick Mahomes. If the Chargers don't win the division or miss the playoffs, you can expect Herbert's card value to drop. Especially in this fickle market.
2. Many Position Players Are Undervalued
Success in football is about much more than just the quarterback. There are electric players on both sides of the ball on the brink of superstardom, including Justin Jefferson, the Minnesota Vikings wide receiver who broke the rookie receiving yard record in 2020 with a 1,400-yard campaign.
Even so, his PSA 10 Panini Prizm rookie card is selling for around $180. That's much less than Eagles quarterback Jalen Hurts, whose PSA 10 Prizm rookie goes for around $280.
For reference, here's what Jefferson's card auction market looks like over the past 90 days based on data from Card Ladder:
And here's Hurts' card auction market over the same period:
A three-month peak of $62 versus $1,242? That's a huge chasm — and reveals a potential inefficiency in the market that's just as big.
For now.
There are too many electric players whose autos and numbered rookies continue to go for dirt cheap. Position players deserve their due, and with Panini entering its final years in the football card game, there's the best chance yet for non-QBs to start doing serious numbers for Year Two stars like Justin Jefferson,
3. Which Rookie QB Will Rise to theTop?
Now-former First Take host Max Kellerman said that the 2021 QB class will be the best of all time after the first week of preseason games, and with the regular season now approaching, it's easy to get excited.
Trevor Lawrence is already the Jags' No. 1, and Zach Wilson got the nod for the Jets. Elsewhere, Trey Lance (49ers), Justin Fields (Bears), and Mac Jones (Patriots) all stand legitimate chances to close out the season as their respective teams' starters.
But let's not get ahead of ourselves.
At the beginning of last season, No. 1 overall pick Joe Burrow's value was considered the highest among members of the 2020 rookie class. Then, the combination of his season-ending injury and the rise of Herbert brought the Bengals quarterback's value down. Even with the introduction of Tua Tagovailoa in Miami and Hurts in Philadelphia, Burrow's card market still holds the second-highest value among rising sophomore signal-callers — but that may say more to the uncertainty elsewhere in the class than it does about Burrow himself.
As it stands, Lawrence and Wilson are headed for Week 1 starts, while their fellow debutantes are still battling for their spots. Could this season be like last, where the No. 1 overall pick shines for the first half of the year only to see another first-year guy surpass him?
The race to become the next Herbert is about to begin.
Sign up for our newsletter
4. Is Another Record Tom Brady Sale Coming?
It's safe to say Tom Brady is the GOAT at the quarterback position; the man might actually give Father Time his first L. Brady proved doubters wrong last season by winning the Super Bowl in dominating fashion in his first year with the Buccaneers. Even Chiefs superstar and hobby wunderkind Patrick Mahomes couldn't keep up in the game.
If Brady wins back-to-back Super Bowls — he'd have eight for his career — you can expect another record-breaking sale involving one of his ultra-rare cards sooner rather than later. Keep an eye on any and all high-grade versions of his 2000 Playoff Contenders Championship Ticket autographed rookie card; even a near-mint PSA 8 is a guaranteed million-dollar sale.
With this in mind, the likes of Herbert, Burrow, and Lawrence are far, far cries from TB12 territory, and collectors ought to behave accordingly
But remember: There was a time in which Tom Brady wax was beyond an afterthought.